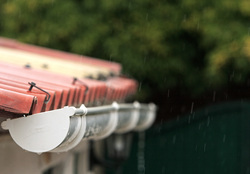 Gutters Giant, Inc. installs and replaces gutter systems on existing homes. We also work with many contractors and builders, providing gutter and downspout installations throughout the Dallas - Fort Worth, Texas, area.

The majority of contractors and homeowners use a residential 5-inch seamless rain gutter installation for new construction. However, the style of the home and the number of downspouts required are factors in determining the correct type of seamless rain gutter system we install. We often find that a mix of 5- and 6-inch rain gutters offer the right solution.

Gutters Giant, Inc. will take all of the factors of your home into consideration to come up with the perfect rain gutter system for your home or business. We ensure that our rain gutters are both aesthetically pleasing and cost-efficient.

Copper Rain Gutter Systems

Using copper rain gutters will add a unique style to your home. Copper ages wonderfully to create a beautiful patina while retaining its integrity. Copper gutter systems offer a classically elegant appeal and work wonderfully in draining water from your roof. Copper does not rot or rust, so you can count on its durability. The experts at Gutters Giant, Inc. have the tools and skills to provide quality installation for your beautiful copper rain gutters.

When your copper gutters are first installed, they will have a beautiful orange-brown shine. As copper ages, it takes on a verdigris, or greenish, patina. This aging process can take many years, but techniques are available to speed the process if you desire.

At Gutters Giant, Inc., we offer copper gutter systems in several styles and sizes. These can be constructed to match and enhance the design of your home.

A copper downspout head will add an attractive look and work perfectly with your rain gutter system. You can select from round, square or corrugated downspouts to further personalize the appearance. We also offer many upgrades, including ornamental heads, embossed rain gutter styles, rain chains and more. K-style, half-round and heavier gauge copper give you different choices for your unique look. Sizes normally range from 5 to 7 inches.

Gutters Giant, Inc. is confident that we can provide you with a durable and elegant copper rain gutter system that meets your needs. No matter what style you choose, copper rain gutters will give you a unique and appealing look while protecting your home from water run-off damage. For the best results, do not let just anyone install your new copper rain gutter systems. We have the experience to ensure your project is done correctly the first time.

Commercial Gutters and Downspouts

Gutters Giant, Inc. works with all types of commercial customers, including shopping centers, office buildings, town home and apartment complexes, universities and hospitals. We have the equipment and skills to install seamless rain gutter systems for any size building and any level of new or existing construction.

Commercial applications frequently use 6- and 7-inch rain gutter systems, and 6-inch K-style is often used on larger homes, warehouses and commercial buildings. Larger roof areas benefit from larger size gutters to divert rainwater. We also offer 3" x 4" downspouts in a full range of colors to work with your new rain gutter system.

We Handle Special Orders

Gutters Giant, Inc. has the equipment to construct your gutters on site. We are fully licensed and insured. Our professionals are experienced in the installation of high-water-volume rain gutter systems, and we guarantee your satisfaction. We will be happy to meet any of your special order needs, and we will make sure that your residential or commercial installation is completed expertly.


CALL US TODAY
469.995.9909