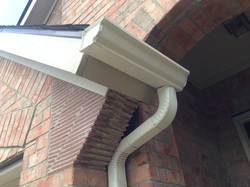 1. Reduces Mold, Mildew and Fungus Growth

Basements and crawlspaces are focal points for moisture collection and fungus and mold growth. By channeling water away from the roof and exterior walls of your home, you are helping reduce the chance of mold and mildew growth under your home.

2. Eliminates the Need for French Drains

When water runs directly off your roof, it lands and pools next to your foundation, resulting in the need to install French drains. Installing seamless rain gutters can channel water away from your foundation for much less than the cost of installing French drains.

3. Reduced Soil Erosion around Foundations

Rain runoff next to your home causes soil erosion, which can reduce your home's structural integrity. Seamless rain gutters help prevent soil erosion and expensive foundation damage.

4. Prevents Water Intrusion through Doors and Windows

Even calked and sealed, doors and windows are not 100 percent water tight. Gutters prevent water from draining down onto your doors and windows and infiltrating your home.

5. Prevents Landscape Damage

Pooling water around your decorative landscaping can cause harmful fungus growth on your plants. By funneling water away from the foundation and sides of your home, you are protecting your landscaping.

6. Prevents Fascia and Soffit Damage

Water always follows the path of least resistance, and when rain gutters are not in place or are damaged and leaking, it allows water to penetrate your fascia and soffit, causing wood rot and mold.

7. Decreases the Need for Power Washing

Rain water that runs directly from your roof down the sides of your home can leave trails of dirt and debris, resulting in the need to power wash your home more often.

8. Reduces Moisture Levels around Home

Seamless rain gutters do not leak. They are constructed from single pieces of metal that are specifically measured to fit your home precisely. This means that seams are only located in the corners and at downspouts, which are reinforced for added protection.

9. Adds Curb Appeal

Seamless rain gutters come in a wide variety of colors and styles. They can be manufactured to match your home's exterior or to provide a decorative accent along your roof's edge.

10. Saves Water

Seamless rain gutters can help you save water and go green. Placing water collection barrels under your downspouts can allow you to water your grass, trees and shrubs for free.