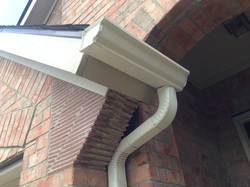 1. Reduces Mold, Mildew and Fungus Growth

Basements and crawlspaces are focal points for moisture collection and fungus and mold growth. By channeling water away from the roof and exterior walls of your home, you are helping reduce the chance of mold and mildew growth under your home.

2. Eliminates the Need for French Drains

When water runs directly off your roof, it lands and pools next to your foundation, resulting in the need to install French drains. Installing seamless rain gutters can channel water away from your foundation for much less than the cost of installing French drains.

3. Reduced Soil Erosion around Foundations

Rain runoff next to your home causes soil erosion, which can reduce your home's structural integrity. Seamless rain gutters help prevent soil erosion and expensive foundation damage.