Seamless Aluminum—High value, lower cost.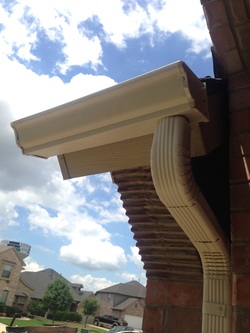 Seamless Aluminum Gutters Give You a High Value at a Lower Cost
Aluminum is extremely durable and does not corrode or rust. The lightweight material does not require any added structural support, and your rain gutters may be painted if you desire. Seamless aluminum gutters offer the best value for your investment.

The seamless design provides your home with maximum protection. The only joints in seamless installation are created at the inner and outer corners and downspout connections. This technology eliminates the seams that could otherwise leak.

Standard 5" Gutters

The 5" K-style rain gutters are the most common design used in residential applications. Gutters Giant experts construct seamless 5" K-style rain gutters at your home for the perfect system and a customized appearance. The aluminum construction is budget-friendly and long lasting.

CALL US TODAY 469.995.9909